Letters from the 'toonist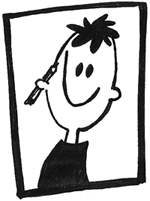 I hope you enjoyed this Willomina retrospective as much as I enjoyed devising and drawing it.
I'm a fan of gags like you see in the newspapers I included in this strip. This comes from reading too much Bloom County back in the day.
In the early years of drawing Spud comics back in high school, Willomina wasn't the super jealous spectacle she is now. This is a relatively recent change. I figured she'd provide much more comedy by being "that type of ex-girlfriend".
And I must admit that I enjoy coming up with her scenarios.
Daniele Rossi