Letters from the 'toonist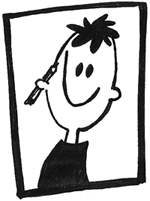 Drawing all that action in this part 2 was a lot of fun! However, I'm now running out of pens colouring in all that background space. Anyone want to sponsor me some pens?
As I described in part 1, the challenge this time was to squeeze in all that action into as few pages as possible. So the result is quite a drastically shorter sequel. But I hope you enjoyed reading it as much as I did drawing it.
Another first for this web app is a (sort of) caricature. As described in the info button on the 2nd page, my friend Andrea was kind enough to donate some time to help create some jquery type interactivity.
As a thank you (and it's not even enough as I am eternally grateful for Andrea's hard work). I gave her a part in this episode.
Caricatures aren't my speciality but I'm always up for a design challenge. Which means the caricature looks nothing like her. Except maybe the streaks of red hair.
So this is more of an Andrea cartoon :)
I met Andrea and her husband, Mark, in the podcasting community. They are great people and really into doing creative things for the sake of creativity. For example, Andrea does some pretty cool stuff with repurposing t-shirts into dresses and sweaters. And Mark created professional sounding radio documentaries for a podcast series he produced.
That's just the tip of the iceberg. Check their many websites out at We Can Rebuild Her, Electric Sky, MarkBlevis.com and Just One More Book!.
Daniele Rossi