About the cartoonist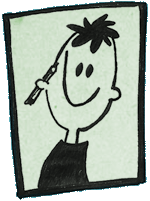 Well hello there!
I'm Daniele Rossi, creator of these SuperSpud comics. Thanks for dropping by.
I've drawn comics ever since I can remember. On walls, in my various high school notebooks, dirty windshields, napkins and now, the iPad!
My influences are Looney Tunes, Peanuts, Bloom County/Outland and Calvin & Hobbes.
Spud was created some time in the early 1990s. Of all the cartoon characters I ever created throughout my life, none resonated more with me (and my friends) than Spud.
He is a lot of fun to draw and place into nuttiest scenarios I can think up (poor guy).
Over the years, Spud mooned the U.N., dated Willomina, went for a joy ride in a bus, was a caped superhero for a time, had a few mishaps in science and tried to drive standard. Most of my Spud comics are autobiographical and I'm still not allowed to enter U.N. premises.

Like all aspiring cartoonists, I had dreams of publishing Spud comics. Fast forward to the Internet age, I'm a digital media head with web skillz and the tools to publish.
I love experimenting with new digital tools. And this iPad edition of superspud.com is one of those adventures.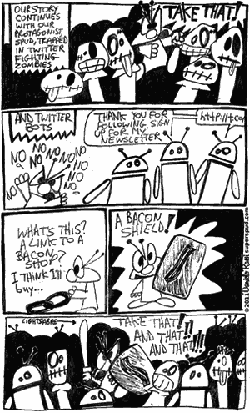 As you have probably noticed, I'm a fan of the flicking feature.
There is also a desktop version of superspud.com where you'll find a bunch of tech jokes there. Like this one on the left.
Had a great time drawing this comic. It's full of Twitter and Internet memes I could think of
(and fit).
Sometimes I get a little artistic and actually get serious for a change. As you will see on the next screen...